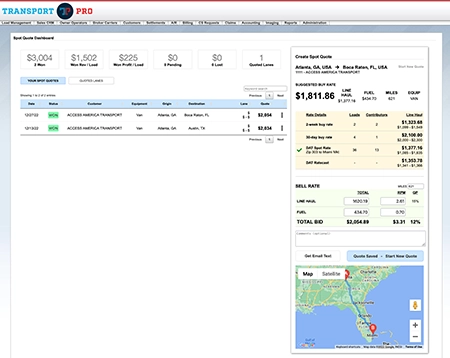 Place Bids 60% Faster
Track Employee Win Ratio
Increase GP by 30%
Bid fast, and bid more often. How long does it take you to respond to a spot quote request for your customer? 30 minutes? An hour? There is a lot of money to be made in the spot market arena, but you have to have the tools to bid quickly, and make sure you're submitting a winning rate. Transport Pro's Spot Quote system brings together your rate history and can integrate with rate sources like DAT RateView and DAT Ratecast to make sure your users have access to accurate freight rates at the tip of their fingers. What used to take five minutes to research, respond, and log a spot quote can be done in under 30 seconds.
In addition to responding to spot quote requests, Transport Pro stores all of this activity and provides a robust management dashboard to show leadership who is quoting, top lanes being quoted, and the quote win ratio. This data is the key to winning more freight and engaging your customers with qualified quote responses.